Return to Headlines
Athletic Wall of Fame to induct new members at Homecoming, October 22nd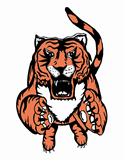 AKRON CENTRAL SCHOOL
47 Bloomingdale Avenue • Akron, New York 14001 • (716)542-5010


ACS ATHLETIC WALL OF FAME SET TO WELCOME 2021 INDUCTEES


AKRON, NEW YORK (September 23, 2021) – The Akron Central School Athletic "Wall of Fame" Committee has announced the 2021 inductees for the ACS "Wall of Fame" and the induction ceremony to be held at 6:00PM in the performance gymnasium during the school's homecoming events that have been moved to on Friday, October 18, 2021 due to the necessary pause for the High School due to the pandemic. This year's inductees include three individual athletes with exceptional athletic careers and a team induction. Additionally, the "Eye of the Tiger" award will be presented and the second time.
Mr. Nick Abraham, an active community member, has been selected for the "Eye of the Tiger" award
for his unwavering support of the athletic program. He's considered a "super-fan" of the Tiger teams for any sport, at any level, boys and girls teams alike. The Wall of Fame committee created the award to recognize those who have had a diligent, unrelenting, protective watch over the pack, ready to spring into action when the need arose. Abraham exudes the spirit honored by this award.

The youngest individual recipient of this year's inductees is Austin Mietz, a member of the Class of 2013, with an exemplary career in football, basketball and baseball. Mietz, who served as team captain, was named to the First Team All-WNY football team during his senior year and at the time, was one of only three quarterbacks in WNY history to exceed 1,000 yards rushing and 1,000 passing yards in a single season. He was also named First Team All-League Quarterback and Class C North League Offensive MVP.
Austin was a three-year varsity starter for both the basketball and baseball teams earning MVP in both sports. He was named to the Second Team Niagara-Orleans All-League his junior and senior years for basketball, and Second Team All-League for baseball his junior year and then First Team All-League his senior year for baseball.
He continued his athletic career at Division II Edinboro University where he was a three-year starter on to football team and team captain his senior year in 2016. Austin received the National Football Foundation Hampshire Honor Society Superior Academic Performance and Excellence Award and spent four years on the Dean's List and Scholar-Athlete. He was also a team representative for the NCAA Student-Athlete Advisory Committee.
Robbyn Peterman Robnett of the Class of 1993 was a standout for the Tigers on the field hockey and
softball teams.
Peterman is a member of the only Tiger team to earn a NYSPHSAA state championship – the field hockey team reached this pinnacle in 1992 under the coaching of Mrs. Janice Williams; they were runner-up in 1991. She served as the varsity team captain two years and was named MVP two times. Robbyn was named to the 1992 First Team All-State and 1991 Second Team All-State. In 1992 was was named Western New York Defensive Player of the Year. She was also selected to the All-WNY team and Niagara-Orleans All-League team four years.
Robbyn also played two years for the Empire State Games WNY Team, earning a bronze medal.
She continued her field hockey career at SUNY Cortland where she and her team enjoyed being National Champions in 1993 and 1994. She was named to the NYSWCAA All-State Team.
Mrs. Robnett is a Physical Education teacher for Springville-Griffith Institute and has coached soccer, softball, field hockey, lacrosse, track, and Unified Basketball. She is credited with starting the girls' lacrosse and Unified Basketball programs there. She volunteered as coach for Akron Youth Soccer and the Akron PIPS program and served on the Town of Newstead Recreation Board for several years.

Selected for a place on the Wall of Fame as a coach and administrator is Mr. Kenneth Stoldt. Ken is recently retired from Akron Schools after 28 years as a Physical Education teacher. He also served the district as the Athletic Director or Assistant Director for 15 years.
Stoldt was head coach of varsity football for 12 years and head coach for the varsity baseball team for five years. He has also coached various modified and JV teams and continues to be an assistant for the current JV football team.
He served as Niagara-Orleans League Sport Chairman for football, boys basketball, and boys and girls cross-country for multiple years. Ken served as the Section VI Football Chairman and on the NYSPHSAA Football Committee for twelve years. He also served on the Section VI Athletic Council and Finance Committee. He was the Niagara-Orleans League Girls Representative for ten years. Ken was a member of the Section VI Officials Negotiating Committee as well.
Mr. Stoldt is a NYS instructor for the Coaching Certification Program and is a USA Football Certified Master Trainer.
The Wall of Fame is pleased to make the induction of the 1990 Varsity Girls Softball Team to the Wall
for their exceptional 1990 season and a trip to the NYSPHSAA Softball Championships.
The team, coached by Carole DeYoung, included captains Antoinette Abrams, Arlene Henning and Noreen Tahamont, plus Ginny Brown, Sue Deahn, Christine Downey, Kimberlee Hallett, Jennifer Landow, Kara Leising, Renee Robinson, Lynn Roeser, Ann Stanbury, Renee Swift and Denise Warner.
Led by Anto Abrams who pitched every playoff game for the Tigers, they opened the playoffs by edging JFK 4-3 on May 24, 1990. They went up against Cleveland-Hill on May 30th beating the Golden Eagles 5-4. Their next victim was Wilson whom they beat 7-6 on June 1st after losing twice to the Lakewomen during regular season play. Akron would clinch the Section VI Class C Championship on June 2nd, when they squeaked by Falconer, 7-6.
"Our luck ran out in Elmira," said Coach DeYoung in an article published in the Clarence Bee at the time. The team was buried early by Notre Dame of Elmira, losing 22-0, at the final four of the NYSPHSAA Softball State Championship on June 6.
The Wall of Fame Committee invites friends and family of this year's inductees and ACS alumni to attend the induction ceremony scheduled for 6:00PM on Friday, October 22, 2021 in the performance gymnasium following the annual Homecoming Parade through the village. The ceremony is a unique opportunity to recognize exceptional athletes that have graduated from Akron Central Schools and who have become leaders in our communities. It is also an event to re-acquaint and reminisce with fellow teammates from their days at ACS. Masks will be required.
For questions or additional information, please contact Mr. Justin Gerstung, ACS Wall of Fame Committee Chairman, at (716)542-5040 ext. 6126.

# # #